Does your business need a legal advisor? What do they do?
Becoming a unicorn or running a successful startup is not everyone's cup of tea. To do so you need to be the manager, salesman, marketer, motivator, business developer as well as a lawyer. How about handling each position to a specialist in that field? This will leave you to do the core work of business. You can put your brains into growing your business meanwhile your team will take care of the rest. In this article, we will see the importance of a legal advisor in a business. A legal advisor is a person who assists the company in pursuing all the legalities effectively. On the way to expanding the company, you need to keep your business compliant with the Government laws. Legal advisors invigilate each aspect of businesses and help to make better legal decisions.  Let us have a look at the role of a legal advisor in business, before that have a quick glance at the legal advisor.
Warming up – who is a legal advisor?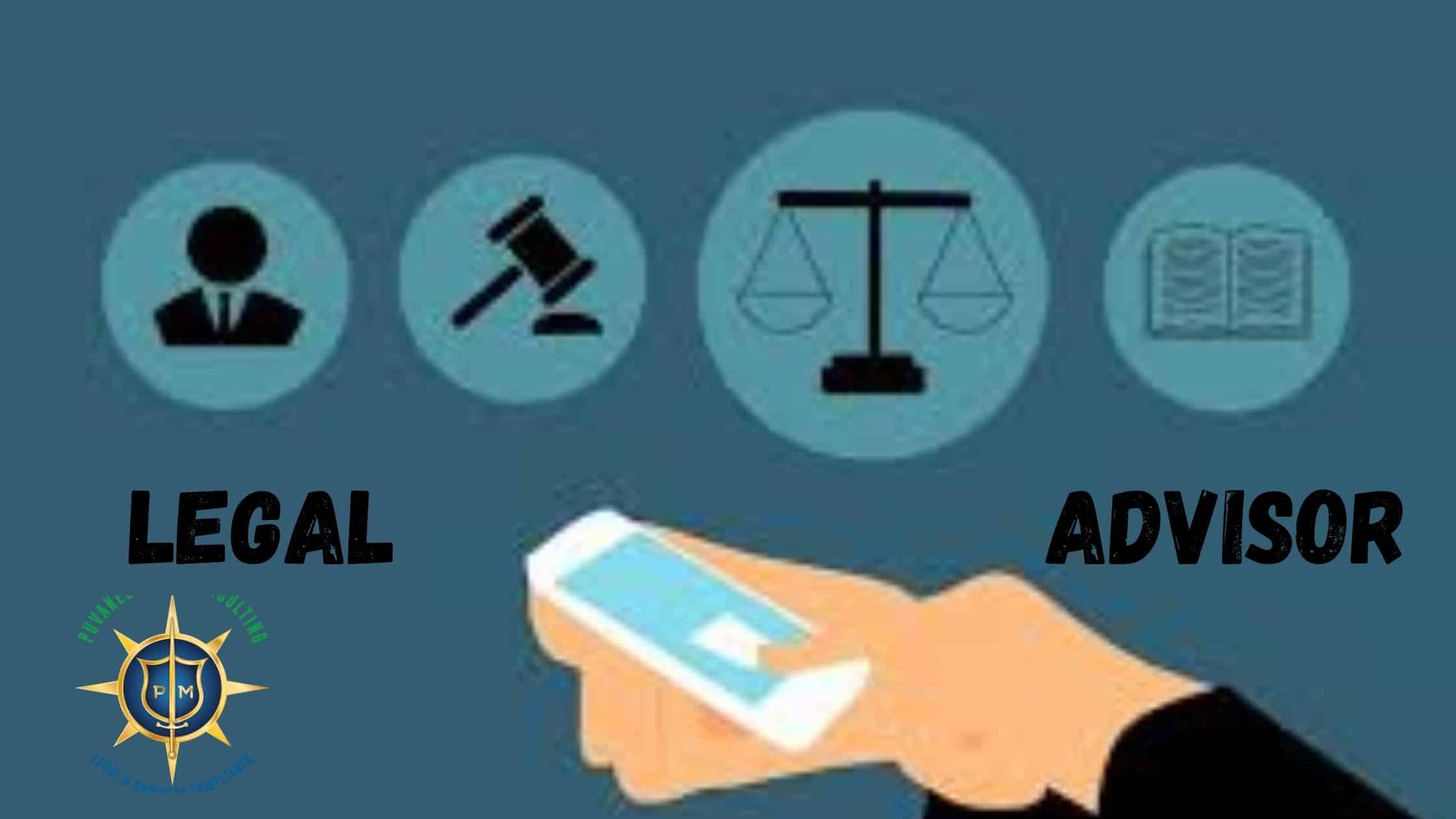 A legal advisor is a professional with expertise in the law and regulations. A legal advisor usually provides assistance to corporate, business owners and the Government. The person takes care of any matter where the law is involved. For instance, employment, litigation, corporate contracts, legal disputes and so on.
Why a business needs a legal advisor?
As much as you believe you can run your business single-handedly, you should also be aware of the time and energy you spend on positions where you do not have your expertise. In such scenarios, getting acquainted with the terms and researching the nitty-gritty consumes a lot of time. Not to mention, the process consumes your energy as well.
A business needs a legal advisor to run a business smoothly. He/She keeps business safe and eases the responsibility of business owners.
Role of a legal advisor in a business:
        Helps to draft policies and audit existing policies:
Policies are the guidelines of business and help employees and employers to navigate. Every business has do's and don'ts policies. It has a direct impact on the growth of the business. Your business might collapse or slow down if policies are not aptly written. A legal advisor has expertise and experience in the field, hence, can suggest better policies for the business. You can also get an audit of the existing policies.
Also Read: If you are based in Qatar, here is the list of important policies your company must-have.
        Legal advisor reviews contracts:
In the business world, contract holds a significant place. You need contracts for employees, you need contracts for the customers as well as you need contracts for the clients, investors, shareholders. Each contact needs to be drafted differently. A contract drafted for employees will ensure a harmonious workplace, empowers employees and seeks' the growth of the company. A contract drafted for clients needs to be written smartly in order to win the deal. And, a contract drafted for investors and shareholders should cleverly include the amazing performance of the company that lures them.  The professional has expertise in this field and hence can give your better feedback and audit.
        Prepare corporate contract:
A corporate contract encompasses agreements between two bodies that are more often not changed frequently. Both the bodies either abide by the rules mentioned or might have to face lawsuits. The corporate has the authority to file a breach of contract claim on the opposite body if the counter-party does not stick to the contract.
        Assists Company in hiring employees:
Business is based on the work ethics and ability of employees. If you do not have the proficiency to hire the best fit for your business, in that case, your legal advisor will guide you. He/She also helps to improve the efficiency of employees by constantly nurturing them. In the whole business process, firing an employee get difficult especially if you are not very upfront. Legal advisor, if necessary, help you to remove the bottlenecks from the team. A progressive, inspiring and dedicated team is non-negotiable for any business.
        Advises in setting up the foundation of the company: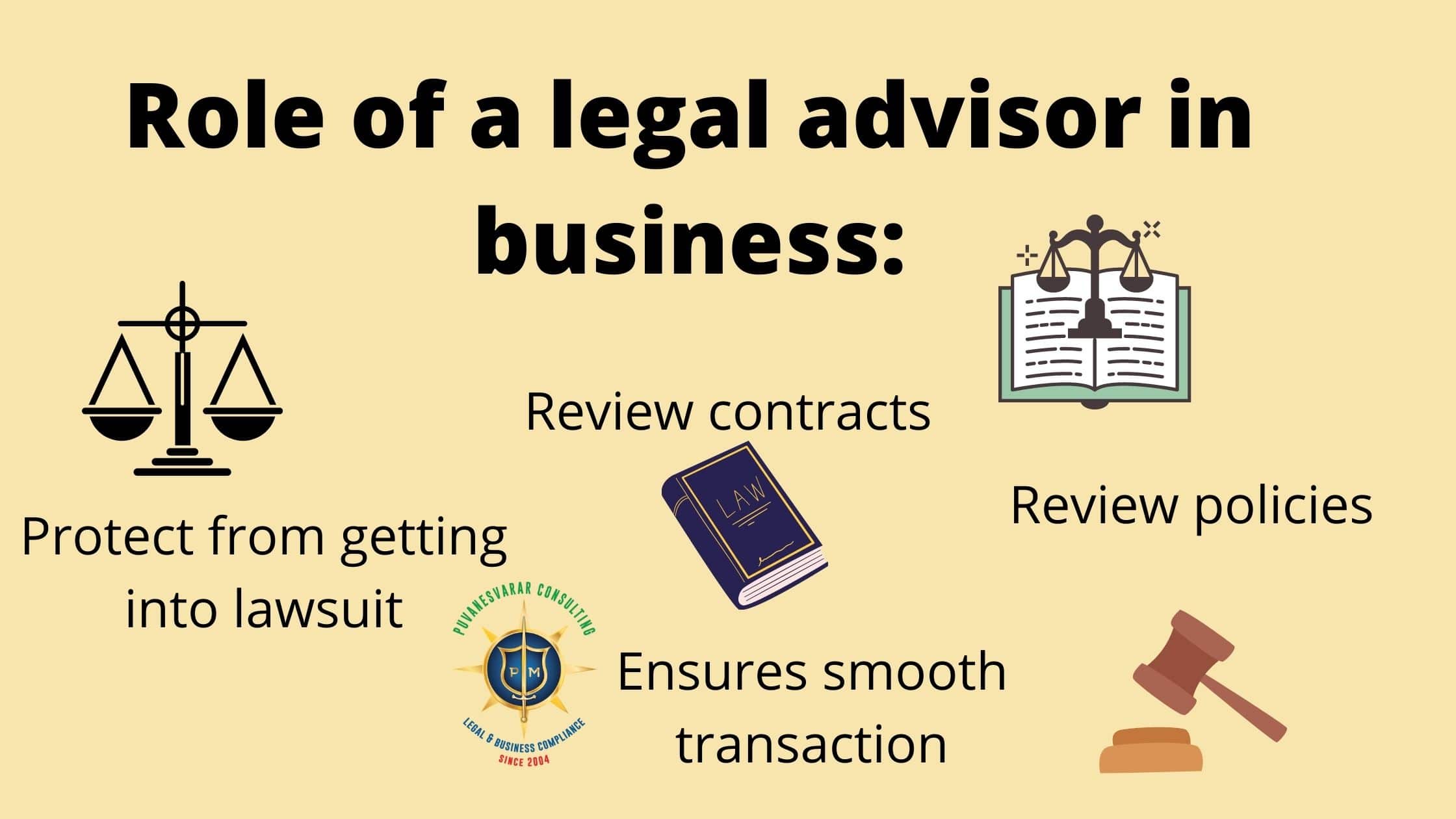 During the foundation of business, you have to go through lots of legal processes. A legal advisor has the expertise and experience to suggest the rules and processes that would be beneficial for the business. Along with this, a legal advisor has years of industry experience, which makes them able to go through your business roadmap and identify the shortcoming.
        Offers advice on legal matters of business:
As soon as you start dealing with clients, customers, investors and shareholders you have to do lots of legal paperwork. Many often businesses need an advisor before launching a product or service, a legal advisor can better understand your vision and suggest accordingly.
Legal advisors can beforehand aware you of the possible legal outcomes after getting into a certain situation. You can weigh the risk aptly and then make a decision. Your strong legal papers will keep lots of legal problems away.
Getting into a lawsuit is the most expensive affair for any business. You have to spend a lot of money for getting out of lawsuits. However, having a legal expert before getting into the lawsuit will make the process easier and economically bearable. Also, the professional will protect your reputation in the market.
        Smooth and timely transactions:
Wherever money is involved, things get tricky. Many a time your consumers or clients do not bother to pay on time. Nudging them, again and again, is just a waste of your time. A legal advisor ensures the transaction is done without much hassle and on time.
Wrapping up
As the business grows, a plethora of legal problems arise. A legal advisor helps to navigate through each stage of business successfully. If you are unsure about the need for a legal advisor in your business, you can just book a free consultation call to know. Puvanesvarar Mailvaganam has been in the position since 2004.