Qatar Labor law- how can you benefit?
Suppose your employer fired you without any significant reason, now what to do? Ah, it can be a nightmare! But, with a strong grip on labour law, you can reason well with your company. Nevertheless, businesses value employees a lot. A healthy, empowered and progressive environment at the workplace is the recipe for growth. Why is Labor law important? The labour law is important because it empowers employees and helps to set the right expectations for employees. Precisely, Labor law helps to maintain a balance between employee and employer. Let us dive deeper into Labor law:
What is Labor Law?
Labour law is a guidebook that states the rights of employees and the responsibilities of employers. Labour law includes everything from hiring an employee to working with them. The objective of labour law is to, empower employees, prevent child labour, prevent discrimination and wages difference, safeguards employees from unfair treatment, etc.
Core labour law such as minimum wages, working hours, compensation is static for all industries but other elements such as safety vary from industry to industry. I recommend you consult a legal advisor for best results. If you are unsure whom to consult, you can call Puvanesvarar Mailvanganam.
Why do businesses need labour laws in the workplace?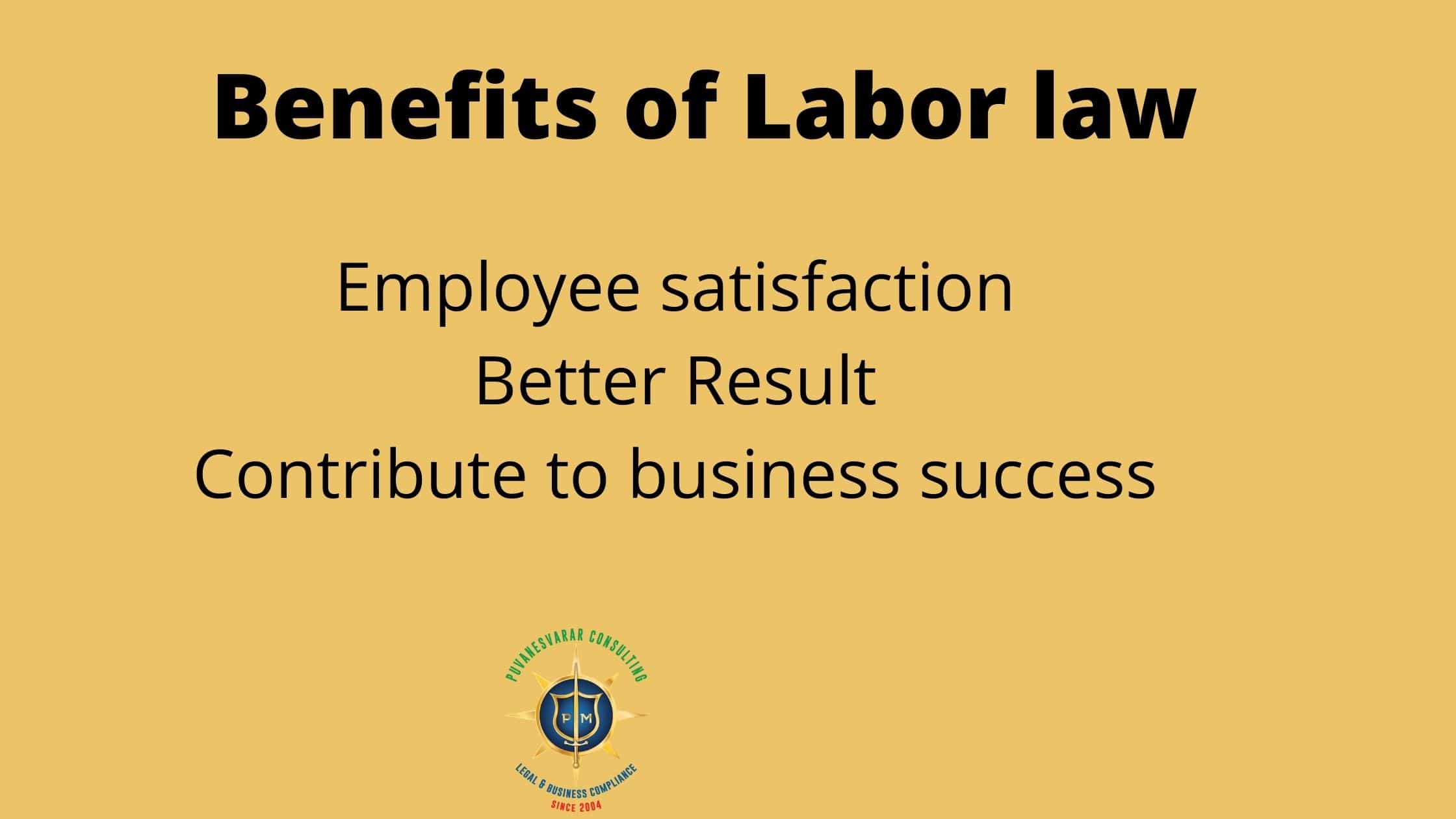 Labour law might seem like a hassle to business owners. In the way of skyrocketing your business, you must not forget to make your employee feel empowered. Businesses need labour law at the workplace because:
Labor law keeps your employee safe and satisfied. They feel empowered and happy, hence tends to be more productive at work.
Your business will grow if your employee put their heart and soul into the work. To get the maximum output from employees' talent you need to keep them happy, satisfied and empowered. Labour law works as a bridge here.
        Contribute to business success:
It is easier to work at the workplace with a positive environment. Employers are valued for their expertise and employees are valued for their skills. Employers can work hand-in-hand with businesses and foster faster growth. Employees can associate themselves with the business and feel proud of it. Psychologically such employees put their maximum effort into the work.
NOTE: Labor law is not applicable for independent contractors. How to distinguish between an employee and an independent contractor?  If the person completes the task at their own schedule and place, these people are independent contractors. If you control their time, place, etc. for the tasks, then, you are working with employees.
Qatar labour law
Qatar Labor law is enforced by the Ministry of Labor and social affairs. Qatar labour law aims to build a harmonious business environment and regulates employee-employer relationships in Qatar. The law is drafted for the public as well as the private sector. Here, we will know about the Qatar Labor law that stems from Labor Law No. 14 of 2004.
The law has been tweaked from time to time as per requirement. For instance, Article 3 (1) of  law no.14 of 2004  says any businesses tied with Qatar petroleum need not follow Law no. 14 of 2004 Qatar Labor law but must follow another law.
Elements in Qatar labour law:
Let us have a look at frequently searched elements in Qatar labour law:
As per Qatar Labor law, an employee can work a maximum of 48 hours a week. Break down this to 6 business days a week and 8 hours a day maximum. This is tweaked during Ramadan month wherein employees can work 6 hours a day. Which boils down to 36 hours a week maximum.
The working hours exclude lunchtime. Workers are not permitted to work for more than 5 hours continuously. Friday is usually a weekly off day for regular workers, however, if it is important to work on Friday, compensation is applicable. It is usually 50% of basic wage and a day off on any other day of a week. Day working hours are tweaked by Labor ministers during hot summers.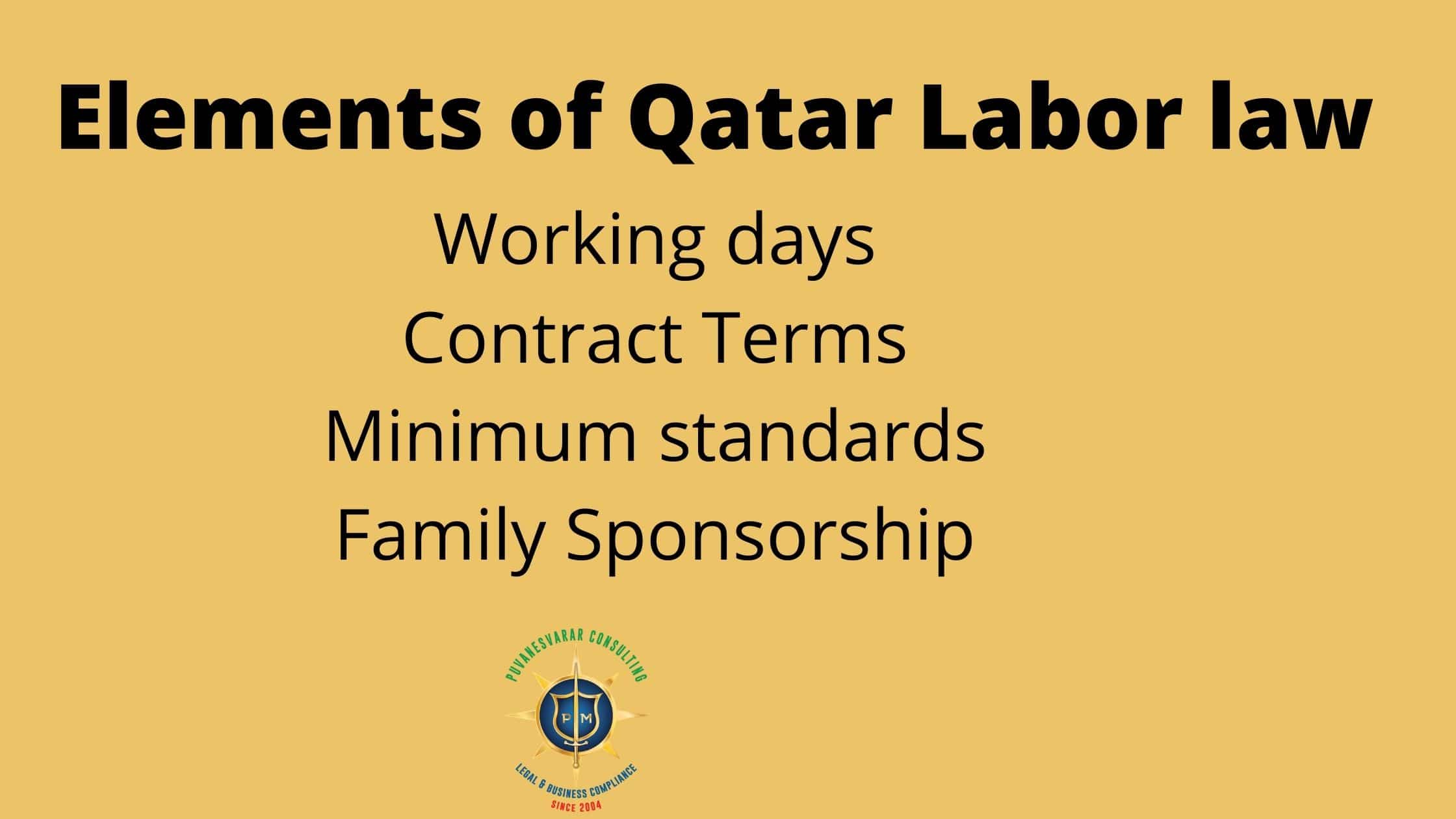 The preferred language for any form of contract is Arabic in Qatar. You can refer to copies of different languages, but only Arabic will be taken into account in case of any dispute. The contract must have three copies that will be distributed between both parties and the Labor ministry.
The contract must include all relevant details such as the name of both parties, the scope of work, nature of work, wages, payment method, tentative date of payment, worker's qualification, allowed leaves, period of the contract, etc.
Written work is entertained for any step such as hiring, working with employees, terminating, etc. These duties are the responsibility of the employer. An employment contract is permitted for a maximum of 5 years at a go and workers' probation period should not be more than 6 months at a go.
So far, there are no fixed minimum wages in Qatar. Employers are open to fixing the minimum wage as per their will. However, the employer, must state the minimum wage and compensation in the contract and adhere to it.
Article 4 of Labor law No. 2004 states any business must stick to minimum standards, else, strict action will be taken against the business by the Government. Minimum standards include maximum working hours, maternity leaves for women, clearly delineated wages, advanced notice before termination, etc. This is done in order to maintain a mutual relationship between employee and employer. Nonetheless, minimum standards protect employees from the unacceptable behaviour of employers.
Qatar labour law permits spouses of sponsored labourers to work on the same work permit. Spouse employer must take the permission from minister first. And the spouse must submit required documents such as employment contract copy, photographs, etc. before starting the work. This has a different setback so weigh carefully before jumping in.
Hey, have you integrated labour law into your business? Do you need to resolve any issues? Do you need to audit your policies or contracts? A legal consultation will help you go through it.